I received this book for free from the library in exchange for an honest review. This does not affect my opinion of the book or the content of my review.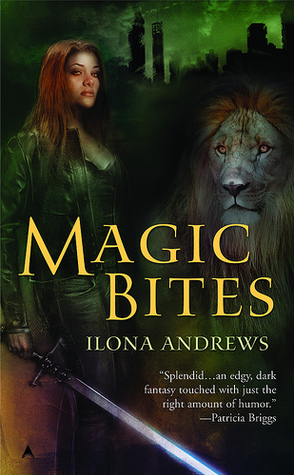 Magic Bites
by
urban fantasy
in
Paperback
edition that was published by
Ace Books
on April 1, 2007 and has 260 pages.
Explore it on
Goodreads
or
Amazon
.
Other books by this author which I have reviewed include
On the Edge
,
Bayou Moon
,
Must Love Hellhounds
,
Dark and Stormy Knights
,
Angels of Darkness
,
Hexed
,
Fate's Edge
,
Hex Appeal
,
An Apple for the Creature
,
"Magic Gifts"
,
Gunmetal Magic
,
Innkeeper Chronicles
,
Steel's Edge
,
Magic Burns
,
Magic Strikes
,
Magic Bleeds
,
Magic Slays
,
Magic Rises
,
Magic Bleeds
,
Burn For Me
,
Night Shift
,
Magic Shifts
,
Magic Binds
First in the Kate Daniels urban fantasy series that takes place in an alternate Atlanta. I'd say apocalyptic as well! Eeek! If you're interested, there is a chronological listing of the Kate Daniels books on my website at Chronological Lists of Complex, Intersected Series.
In 2008, Magic Bites won the DABWAHA Romance Tournament for Best Novel with Romantic Elements/Crossover.
My Take
I do love this series. And I see from my notes that this is the third time I've read it…and as soon as I finish this review, I intend to re-read it. Yet again. It's a fascinating world that Andrews has created with a world torn apart — literally — by a sudden onset of magic.
No, it's not a cabal or a secret black arts organization, but a natural phenomenon that has hit the world. A world we wouldn't recognize as it vacillates from tech to magic, disrupting any technology, crumbling hard infrastructure with power swinging between those who can't use magic and those who can. A world which has seen the rise of new organizations from legal to criminal to species in an attempt to survive.
An intriguing world intricately described and will appeal to those who enjoy reading dystopian-style stories with that human ingenuity for survival. But that's an undertheme.
I love this sentence, with every adjective and noun, it creates another shield against the world:

"Thick metal grates secured small windows, blocked by pale venetian blinds behind dusty glass."
Within this Andrews alternate universe, the authors introduce the primary cast of characters beautifully, providing just enough information that we learn their personalities, their characteristics, and what drives them; all of it presented in a natural manner. Andrews ties it all together without dumping the information on us. Instead, Kate's power and weaknesses, the Packs' protocols, and the People's preoccupations come through in the action. Andrews also lets slip suggestive details that made me curious the first time I read Magic Bites. Now as I reread, after I've learned what's so critical about Kate's obsession, I find myself wondering what other clues Andrews dropped that I missed the first few times. If there were accompanying snippets that would have tipped me off sooner…hmmm…
The strength of Magic Bites is Kate. She's not rich or beautiful, but she does have a carefully hidden power with a strong sense of morality. She's fair, and no one is free of her skepticism. She trusts no one. She protects everyone. We're privy to Kate's thoughts, her silent acknowledgement of her weaknesses. And her brash refusal to lie down before them.
It's a reflex. Hear a bell, get food. See an undead, throw a knife. Same thing, really.
Andrews includes just about all the supernatural world: shapechangers, demons, gods, and vampires. And then gives them all a twist I've not read before.
Oh, man, you have to love Kate's chutzpah when she's about to meet the Beast Lord for the first time. And he don't take no shit either, LOL.
The first is that "Here kitty, kitty, kitty…"

The second is when Kate asks a waiter to deliver a saucer of milk to Curran".
Ooh, meow…Curran's got cheek telling Kate she's got "a bad case of spotlight deprivation". And he keeps going on about it…hasn't he spoken to Jim? Kate's occasional partner?
"Curran reached for the needle, pulled it out, and dropped it to the floor, never taking his eyes off me.

'It's okay,' I told him. 'I have more.'"
Gotta give Crest points for trying — and Kate's usual activities take a LOT of trying; I certainly don't grasp the Pack's need to go after him. It didn't make sense on the evidence. And what's with blaming Kate for that "hunch". The Pack Council is the one that jumped all over this.
I wanna know why it took the Crusader two years to find the upir again.
Even amongst all the grimness, there's humor as when Kate tells Curran to send her a formal invitation next time…and he does, LOL.
I can't wait to read Magic Burns next.
The Story
The unexpected murder of Kate's remaining bit of family that sends her to the Order of Knights of Merciful Aid. With their help or without it, she'll find out who murdered the man she thought of as a father.
The Characters
Kate Daniels is with the Mercenary Guild, and she's not much on following orders or hierarchy. The magical sword she carries is named Slayer, and it must be fed. The Karmelion is a beat-up truck that runs on water infused with magic; regular cars, like Betsi, don't run when the magic's up. Greg Feldman is a member of the Order, a knight-diviner, and the man who took Kate in when she needed help, her legal guardian. Anna is Greg's ex-wife, a clairvoyant.
Dr. Maximillian Crest volunteers reconstructive surgery on the dead. Saiman is a completely different kind of shapechanger with an eye for Kate. He deals in information (see "A Questionable Client" in either Dark and Stormy Knights or Magic Graves).
The Pack
Jim Black is Kate's sometimes partner on Guild jobs and a member of the Pack Council, a jaguar. Curran Lennart, a man with a sense of humor, is the Beast Lord, king of the Pack, and the type of man Kate's father and Greg had warned her to avoid. Not someone you greet with a "Here kitty, kitty…" Corwin is a lynxwere. Mahon is the Kodiak, a bear shifter, a.k.a., the Executioner. Derek is a beautiful boy whose actions have repercussions. Jennifer is the female alpha-wolf. Dr. Doolittle is the Pack doctor. Aunt B leads the bouda, the hyenas.
Order of Knights of Merciful Aid
The Knight-protector in charge in Atlanta is Ted Monahan, a man with a preference for cowboy boots, hat, and fringed shirts. Maxine is the telepathic receptionist. Nick is a Crusader of the Order, a type of independent detective/assassin.
The People
Nataraja is the local lord of the People in Atlanta; Rowena is his second-in-command. Ghastek is a Master of the Dead, a title that indicates he has mastery in navigating a vampire. No vampire can be allowed to roam on its own. Bono is a journeyman navigator with an eye for the ladies. Roland is a legendary head of all the People.
The Groups and Organizations in Atlanta
The Pack is all the shapechangers in the Atlanta area and a bit beyond. It includes the bouda, wolves, bears, cats, rats, buffalo, foxes, you name it. It's led by the strongest among them: the Beast Lord. A loner is a shapechanger who chooses not to join the Pack; a loup is a shapechanger who allows their body to control their actions. Their central headquarters is the Keep. The Lycos Virus, a.k.a., Lyc-V for short, changes a human into a shapechanger, leading to the individual's battle between mind and body. If the mind wins, they join the Pack.
The People are necromancers who navigate the vampires; the Casino is their headquarters. Yeah, there is absolutely nothing romantic about these vampires.
The Mercenary Guild is hired when it's magic that the police can't or won't handle. The three legal enforcement divisions are the Paranormal Activity Police Division, which is like a magic SWAT unit; the Military Supernatural Defense Units; and, the Order of Knights of Merciful Aid, which is similar to the Mercenary Guild, but you don't have to have money to hire them — just a clear conscience. And if you're lucky, you won't get dead.
The upir is a corpse-eater with a strong need to mate, to have a child capable of carrying on. Arag is his eldest son, a baboon hybrid. Olathe was the favored concubine of Roland, and she's a Mistress of the Dead. Yeah, a navigator…
The Cover and Title
The cover is an interesting range of greens and oranges with a cat-eyed Kate wielding her sword, Slayer, and decked out in black leather while a pensive-looking Curran in his lion form stares out at an angle. I would have thought a snarling Curran would better suit this particular installment. In the background is a hazy skyline of a crumbling Atlanta.
The title sums it up, for in this new world, Magic Bites.
Related Posts