I received this book for free from the library in exchange for an honest review. This does not affect my opinion of the book or the content of my review.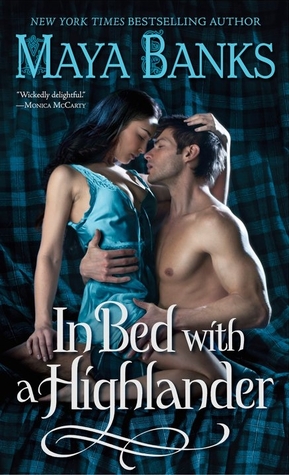 In Bed with a Highlander
by
historical romance
that was published by
Ballantine Books
on August 30, 2011 and has 351 pages.
Explore it on
Goodreads
or
Amazon
.
Other books by this author which I have reviewed include
Sweet Surrender, Colters' Woman, Sweet Persuasion, Sweet Seduction, Darkest Hour, Seduction of a Highland Lass, Colters' Lady, No Place to Run, Hidden Away, Men Out of Uniform, Red-Hot Summer, Never Love a Highlander, Brazen, Sweet Temptation, Whispers in the Dark, "Colters' Wife", Colters' Promise, Echoes at Dawn, Undone By Her Tender Touch, Four Play, Cherished, The Tycoon's Pregnant Mistress, Never Seduce a Scot, Highlander Most Wanted, "Softly at Sunrise", Shades of Gray, Rush, Fever, Forged in Steele, Burn, Colters' Daughter, Colters' Gift, Be With Me, When Day Breaks, After the Storm, Taking It All, Keep Me Safe, Darkest Before Dawn, Enticed by His Forgotten Lover, Sweet Possession, Sweet Addiction
First in the McCabe Trilogy historical romance series set in Scotland.
In 2001, In Bed with a Highlander was nominated for the Romantic Times Reviewers' Choice Award for Scotland-set Historical Romance.
My Take
A typical historical romance in that the guy takes the girl and they fall in love and live happily ever after. On the plus side, Banks does do the wedding and the love part early in the story so, for a change, we get to enjoy the wedded bliss of castle life. Yes, there is strife what with the sneak attacks and the Cameron claiming that Mairin is his wife, pregnant with his child with all the attendant betrayal and treachery.
What irritates me is the lack of research Banks did on the period. Small things. Yes, I realize Mairin was raised in a convent and what would nuns know about sex, however, an abbess who knew enough to help Mairin make a list of the lairds who could keep her safe would also know enough about politics and what was necessary upon her being wed to ensure it was legal. Nor can I imagine that Mairin's education as chatelaine would have been so woefully lacking. Since she has supposedly been on the run and hiding most of her life, you'd think she'd have picked up some smarts about handling people instead of thrusting in with her ignorance.
As for the king just showing up and spending a couple weeks…yeah, right. She sure slipped into referring to Ewan's clan as hers real easy, too.
Ack, it was just irritating to read.
The Story
Mairin Stuart is wanted by every laird in the Highlands. Every one who wants her highly desired dowry. So it's no surprise when Duncan Cameron's men break into the abbey and torture the abbess as to Mairin's whereabouts. The real surprise is Mairin escaping along with Crispen, the child she rescued from her captor, only to fall headlong into the clutches of the McCabes.
Luckily for Mairin, Crispen is a McCabe and has vowed that he and his father will protect her from her enemies. Ah, but who will protect her from Ewan McCabe, laird of the clan.
The Characters
I like that Mairin is a strong woman who stands up for herself and those weaker than her. Ewan and his brothers, Alaric and Caelen, seem to be pretty good guys too…for medieval Highland men!
Naturally, Duncan Cameron is worse than a beast as are his cohorts.
The Cover
The cover is rather lame and consistent in its inattention to detail. Against a blue and black plaid backdrop, Mairin is wearing what looks like a blue satin nightie and straddling a nude, short-haired Ewan. Yeah, the same Ewan who is described as long-haired whose clan colors are green and gold…and not the hated blue of the Camerons…
Related Posts